I did it! Decided to go "official" with my blog and have it designed by someone who actually knows what they are doing and does an amazing job in the process! I am going to get some custom work on my blog and get a new header and layout! YAY!! I am the most excited about getting a button with the code so that my blog friends can share my blog with others. I love doing that for other blogs, especially when the button rocks!
Who is my blog savior? None other then The Frilly Coconut! I love her work and am ridiculously excited about her doing it. It is sooooo worth the wait! (I am on the waiting list for my turn).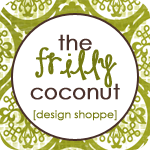 Not just because she is my choice of designer, but because she has super cute work, I suggest you check her out when you are thinking about a "redo", or in my case a "newdo!"
Making the decision on someone to do the "newdo" for my blog was difficult because there are many great blog designers out there. My second choice was
Blogs by Leslie-Custom Blog Design.
Her portfolio is amazing and the best thing is that her prices are really reasonable for the quality of work. Check her out!
Free2bMommy