Well yall, its official!! My blog redesign is complete thanks to
The Frilly Coconut
! Hurry up and get on her waiting list!! Jessica worked with me down to the minor details that I wanted in order to make this blog "Free2bMommy!" I wanted a blog design that reflected me and all the other "Free2bMommy" blogistas! Mission accomplished!
I have a button!!! I will post later what it means to be "Free2bMommy" and you can decide if you want to grab my button.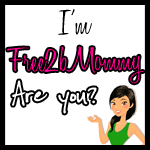 Just wanted to let everyone know that it is done!! whooooo hooooooo!!! Thanks Jessica!