So when I started blogging last year, I adopted a standard layout from "cutest blog on the blog" and as thank ful as I truly am for that template, its time to move on. YES its true! I am getting a blog makeover! Jealous?! haha!!
After being on a well worth the wait design list for a while, it is now my turn!! YAY!! Who is doing this extreme blog makeover since if you know anything about me, you know it could not possibly be me?!
The Frilly Coconut!!
I do not remember how I stumbled upon her site, but once I was on her page, I was hooked! You really do need to see her portfolio!!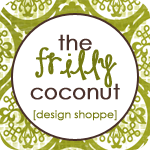 Anyway, Free2bMommy will be complete soon with a new layout, header, and button with HTML!! Thanks Jessica for working on the design, and I look forward to the unveil soon!
Free2bMommy