My "Because im a post wh_re" posts are reserved for times when I feel random, and I feel random today. I figured I would integrate that randomness with a good old
Pouring your Heart out session!
Thanks Shell! For the orginal origins of Pouring your heart heart visit
HERE.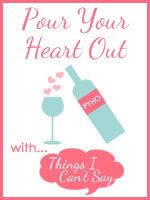 I wake up this morning and feel overwhelmed, as usual. I want to go back to bed and pull the covers over my head, but I can't. I can't because I would be doing an injustice to my daughter by letting her miss school, especially during a time where she has already missed so many days on account of her Panic Attack Disorder. My son is sound asleep and I hate that I have to wake him, but I have to.


The feeling of "having" to do anything out of "responsibilty" is not something that I have adapted well to. If you ask those closest to me, they will tell you that I am a little stubborn and would rather learn from my own experiences, not matter how bad. So, doing anything because I have no choice sucks, and sometimes pisses me off. I know that my kids must get taken care of, and that does not make me angry, but the fact that I cannot just decide and dictate when they get up and decide if I feel like they should go to school annoys me.

I know that sounds weird, but sometimes I AM weird.

Staring at the blinking cursor makes me anxious, wait everything makes me anxious. I have Generalized Anxiety Disorder and suffer from extreme anxiety every day, that is sometimes social agony. Am I medicated for that anxiety? Yes, but the anxiety and worry never go away.

Sharing that tiny last bit, is really pouring my heart out, because you might read and judge, or you might read and think "wow me too." I was willing to take that chance because it is my life and this is my blog and I will blog if I want to.