Sorry I have been MIA. We have had a small family emergency and I will not be in blog land for a couple of days. I thought I would share this piece again for new followers!Dee
So, I now have an official button for my blog, but what many of you don't know is that I wanted the button to be as much for you as it is for me. Ya see, Free2bMommy is not just me. My name is Dee. Free2bMommy is a very specific type of woman and mother, and I wanted to share what it means, in case you might want to grab the button too, you can get the html on my page.
(please don't post the button unless you are confident in your decision to)
Thanks for all of the support many of you have given me. I have grown into this blog because of the comments and words of support from all of you. I have always felt comfortable sharing how I feel and what I think, but have often been misunderstood for it. Here on my blog, I know that my readers "get me," and that is amazingly powerful.
Here is what it REALLY means to be "Free2bMommy"
Free2bMommies are moms who are savvy in balancing love, culture, family, friends, work, and life, while looking damn good doing it. We DO NOT fit a "mold" and we DO NOT want to. We love our children and we DO NOT need anyone to tell us how to raise them...unless we ask. We DO NOT apologize for who we are, or how we feel. If you like us, awesome! If you don't, we really don't care. -- If this sounds like you, grab the button and wear it on your blog proudly!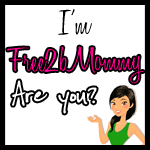 Thanks again!
Dee